Correspond with us, including our executive editor, professor Yves A. Isidor, via electronic mail:
letters@wehaitians.com
Want to send this page or a link to a friend? Click on mail at the top of this window.

Must learndly read, too; in part, of intellectual rigor; in part, the repository of ultimate knowledge
Posted Monday, August 7, 2006
State rep.'s husband snared in protitution sting
By Michele McPhee, Boston Herald Staff Writer
The husband of State Rep. Marie P. St. Fleur, who says he is separated from his wife, was arrested in a prostitution sting in Roxbury late Saturday night after he allegedly offered an undercover female cop $40 for oral sex, according to a police report.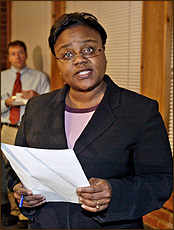 State Rep. Marie St. Fleur is pictured in a file photo. Her husband, Jean Baptiste Lature, was arrested Saturday night. (Staff file photo)
Jean Baptiste Lauture, 47, of Dorchester, was arrested at the intersection of Blue Hill Avenue and Woodcliff Street, police said.
"This event is not connected to and is completely unrelated to my wife," Lauture said in a press release sent by his attorney to the Herald at 5 p.m. today. "This has been a very difficult year. My wife and I are presently separated while we work through our marital problems."
Lauture was arrested on a charge of soliciting sex for a fee and booked at Roxbury's District 2 station. His 1993 Infiniti was towed, according to the police report. His lawyer, Ernst Guerrier, entered a plea of not guilty on his behalf at his arraignment at Roxbury District Court.
The bust was part of Operation Squeeze, a crackdown on prostitution in the hot-spot neighborhood that netted four other men over the weekend.
"I apologize for any ill feelings or embarrassment this story may bring to my wife, my children, my extended family and my community," Lauture said in the release. "I expect to be exonerated of all charges once all the facts are revealed. I ask for your prayers."
A spokesperson for St. Fleur, a Dorchester Democrat, refused to comment on the case.
The family's financial woes nearly sank Attorney General Tom Reilly's gubernatorial campaign earlier this year, when it was revealed within a day of St. Fleur's announcement as his running mate that she and her husband were swimming in tax liens and debt.
Reilly faced harsh criticism for tapping St. Fleur to be his running mate without scrutinizing her long history of financial problems. State and federal records showed at the time that St. Fleur had a $12,700 lien against her home for unpaid federal taxes and owed $40,000 in federally backed college loans.
A Herald review of their household financial records shortly after the Reilly controversy in February also found that the couple had not paid excise taxes.
Registry records showed Lauture had several unpaid Boston parking tickets, eight license suspensions for unpaid traffic fines since 1988, and one revocation in 1998 for passing three bad checks.
The couple drew a $12,700 lien against their Dorchester home because of tax debts from 1999 and 2003, according to federal records. The couple had three unpaid tax debts in the past four years, including bills from the city of Boston totaling more than $7,100. Those debts have since been paid.
St. Fleur, a state rep since 1999, also had a debt of more than $5,200 from December on her campaign finance account and had faced a previous enforcement action for improperly using $5,000 of her campaign finance money to pay for a Honda wagon in 2001, state records show.
Kim Atkins contributed to this report.
© Copyright by the Boston Herald and Herald Media. Reprinted from The Boston Herald, online version, of Monday, August 7, 2006.
Wehaitians.com, the scholarly journal of democracy and human rights