Correspond with us, including our executive editor, professor Yves A. Isidor, via electronic mail:
letters@wehaitians.com; by way of a telephone: 617-852-7672.
Want to send this page or a link to a friend? Click on mail at the top of this window.

Must learnedly read, too; in part, of intellectual rigor
Posted Saturday, April 5, 2008
Preval, Alexis days are numbered after at least four additional people killed, 20 injured at Haiti fast growing anti-blanket dehumanizing poverty protest
PORT-AU-PRINCE (AFP) - Four people were shot dead and some 20 injured Friday on the second day of demonstrations in Haiti against rising prices and poverty, a politician told AFP. "Four people were shot dead and some 20 injured" in the protest in Cayes, the country's third most populous city 190 kilometers (118 miles) south of Port-Au-Prince, Senator Gabriel Fortune told AFP.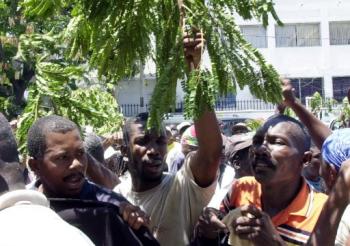 Haitians protesting in front of the Haitian parliament Friday in Port-au-Prince. As if they were rehearsing for a church choir they chanted "Down with Preval, Down with Alexis," respectively Haiti's extreme violence-issued, grossly incompetent president and prime minister.
"I cannot go out, the situation has degenerated and it appears to be taking a turn for the worse," Fortune said.
"There are armed people who came from Port-au-Prince, the capital, to bolster the demonstrators," he added.
Witnesses contacted by telephone said that scores of demonstrators marched on the streets of Cayes, and that they heard shots and saw streets blocked by burning barricades and the shells of torched vehicles.
Some 30 people were wounded in similar protests on Thursday in Port-au-Prince, Cayes and Gonaives, the country's three most populous cities.
Local television network Tele Caramel showed footage of a dead person close to the base for foreign soldiers with the United Nations Stabilization Mission in Haiti (MINUSTAH) in Cayes.
"Haitian National Police and Blue Helmets (from the UN peacekeeping mission) were deployed in the city to control the situation," said police spokesman Frantz Lerebours in Port-au-Prince.
Haiti, population 8.5 million, is the poorest country in the Americas. Eighty percent of its population earns less than two dollars a day, below the UN-established poverty rate.
Government spokesman Abel Descollines said Thursday that new measures to aid the country's poor would be announced soon.
Copyright © 2008 AFP.
Wehaitians.com, the scholarly journal of democracy and human rights