Want to send this page or a link to a friend? Click on mail at the top of this window.
As Older Students Return to Classrooms, a Thriving Industry Develops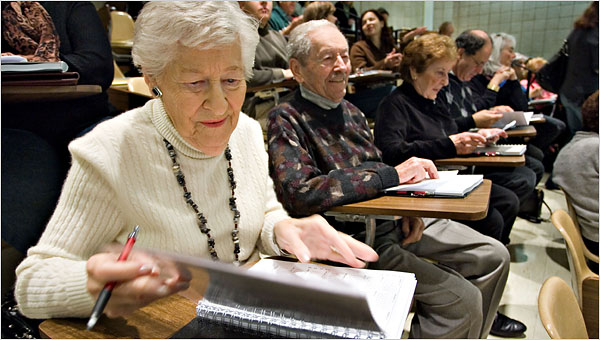 Emile Wamsteker for The New York Times
Helen Lappe, 86, attended One Day University in Morristown, N.J.
Marcia Seredynski, 62, a former high school history teacher, is semi-retired in Briarcliff Manor, N.Y., but that does not mean she has slowed down. She is a substitute teacher, a traveler and very busy with lectures and workshops about things like politics and cinema. "I like to keep up with the educational system," she said.
In September, she attended One Day University, a daylong seminar that exposes adult students to a variety of subjects taught by Ivy League professors. For eight hours, Ms. Seredynski and about 200 others at the Doral Arrowwood Resort in Rye Brook, N.Y., explored subjects like "Psychology and Creativity: Geniuses, Madmen and You" or "American Studies: Crisis on the College Campus" and "Bioethics: Medicine, Law and Morality" and got a buffet lunch and a wine and cheese reception.
"The professors were all so passionate about their subjects," she said. "The chairs weren't particularly comfortable, just folding chairs, but everyone was really engaged. You could hear a pin drop."
Ms. Seredynski is not alone in her quest for educational sustenance, especially among those 50 or older. Continuing education — that is, noncredit courses or classes taken after formal education — is a $6 billion business, according to William A. Draves, president of Learning Resources Network, a national consulting organization in River Falls, Wis.
That number is up from $4 billion two years ago. He expects the industry to hit $8 billion by 2011. (While most continuing education courses are from nonprofit organizations, about 100 providers, like One Day University; the Learning Annex, which is in 14 cities; and Colorado Free University, in Denver, are for-profit.)
Participation has increased to 44 percent in 2005, from 40 percent in 1995, according to a 2005 survey conducted by the National Center for Education Statistics. About 47 percent of 50- to 54-year-olds took some kind of course; 40 percent of 55- to 64-year- olds; and 23 percent of those 65 and older.
"Thirty years ago you had two kinds of senior courses: sewing and knitting," Mr. Draves said. "Now older adults have been to college and are interested in the total spectrum of art, literature, travel, spirituality, cooking, health. They're living longer, therefore they're more energetic and alert." Courses related to financial planning and second careers are also popular.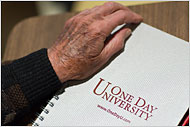 Emile Wamsteker/The New York Times
The idea for One Day University came to its founder after he visited his daughter at college. One Day University classes start at about $189.
Albert Stewart, who turns 87 on Nov. 25, has a Ph.D. in chemistry from the University of Chicago and was once an executive at the Union Carbide Corporation in New York. From 1965 to 1980, he taught marketing at Western Connecticut State University in Danbury, where he was also the acting dean of its business school.
In the spring of 2005 he moved into Ridgefield Crossings, an assisted-living community in Ridgefield, Conn., and the wheels in his head began churning. Why not bring in professors from Western Connecticut to come lecture to residents, most of them in their 70s, 80s and 90s?
Mr. Stewart, who is president of the resident council, brought the idea to his peers, they liked it, and in March 2006, the first class "Village of the Dammed," about the seizure by eminent domain of a section of southern Connecticut, written by James Lomuscio, an adjunct professor of English, took place at Ridgefield Crossings University, as the free series is called. Next month they are bringing it to a sister community in Brookfield, Conn.
"I want to help all of us learn," Mr. Stewart said. "There are a lot of things I want to know about. I'm not caring about staying young. I just want to keep my mind active."
Continuing education for the older set came of age in 1962, when the Institute for Retired Professionals was created at the New School in Manhattan. By 1988, there were 50 such institutes around the country; today, there are about 400, said its director, Michael Markowitz. The concept quickly caught on across the country in various incarnations.
"The baby boomers are turning 60 with the realization that they have skills, capabilities, energy, 25 years of good health in front of them and they're wondering what they want to do," Mr. Markowitz said. "They're starting to realize that you build a retirement the way you build a career. So they're looking to see how much time they're going to spend in volunteering, in physical activities, in keeping their muscles toned and how much time they're going to spend helping their mental apparatus stay toned."
Dennis and Andrea Klein can relate to that. Over the last few years the couple have taken six different classes in subjects like religion and memoir writing at the Osher Lifelong Learning Institute through California State University, San Marcos Extension, near San Diego. Each class lasts about two and a half hours and runs for five weeks. Among their favorites: ''Open Spirituality," which explored different beliefs around the world. They said they had also made good friends.
"A lot of it has to do with the social interaction and the intellectual stimulation that people are interested in finding at this age," said Mr. Klein, 59, a retired mailman. "And that's another thing — people. It's a way for people to use their life experience in the classroom setting without being tested."
The Osher institute began in 2001 at the University of Southern Maine. At the time, there were only two Osher institutes; today, there are 93 on various college campuses, serving over 40,000 people, said its executive director, Kali Lightfoot.
"The boomers are the best-educated generation in the history of the universe," she said. "If early in life you learn to value education, that stays with you through life."
Other programs have updated their offerings to stay competitive. Lawrence University in Appleton, Wis., has been offering weeklong noncredit adult seminars on its 425-acre estate every summer since 1980. But on Oct. 6, in an effort to meet the ever-increasing student demand, they broke ground on a $4 million, 20,000-square-foot addition to the 17,190-square-foot lodge.
Elderhostel, a national nonprofit organization that offers short-term classes for those over 55, was founded in 1975. Six programs were offered that first year, reaching about 220 people. Today, about 160,000 older learners participate in 8,000 courses. In 2003, they created a one-day lecture series called Days of Discovery, for people who cannot get away for long periods of time.
Eduventures, a research and consulting firm focusing on education markets, estimates that approximately one million people over age 55 enroll in college-delivered continuing and professional education courses. A 2005 online survey the firm conducted found that this population typically spends $920 a year on noncredit courses, implying a total market size of more than $920 million in tuition revenue generated for colleges, according to Sean Gallagher, senior analyst.
The idea for One Day University came to its founder, Steven Schragis, in October 2004, after he visited his daughter, a freshman at Bard College in Annandale-on-Hudson, N.Y. The school offered parents 20-to-30-minute samples of each class. "Everyone loved it and made the same joke: Wouldn't it be better to be going to college again instead of paying for it, but with no tests and no need to stay up and study?" recalled Mr. Schragis, 50, the former national director of the Learning Annex.
A few months later he went to see the Broadway show "Avenue Q," which features a song called "I Wish I Could Go Back to College." "I watched the whole audience tear up over that sentiment," he said, and a business was born. The company is very much for-profit; classes range from $189 to $239.
While his son and daughter were skeptical that anyone would voluntarily listen to a professor just for the fun of it — "that's how most people under 25 to 30 feel," he noted — so far they have been proved wrong. Classes have taken place in Morristown, N.J., and Cambridge, Mass., and another one is scheduled on Nov. 18 at Doral Arrowwood.
Then the troupe heads to Hartford; Boca Raton, Fla.; and Newton, Mass. Each one has sold out, and they have grossed close to half a million dollars since September, said Mr. Schragis, who hopes to expand to 12 cities by the end of 2006.
Bob Larson, 54, owner of Berman Larson Kane, a staffing company in Paramus, N.J., attended the One Day University last month in Morristown and plans to return. "I have two children in college, and when we were touring schools I remember thinking that I'd much rather be going to college than paying for it."
He especially enjoyed "The Second Nuclear Age," which surprised him. "It was like college — you wound up taking the history of modern art because you had to and it turns out to be your favorite course. For a brief moment I felt like I was in my 20s again."
Copyright 2006 The New York Times Company. Reprinted from The New York Times, Business Day, of Saturday, November 11, 2006.
Wehaitians.com, the scholarly journal of democracy and human rights