Correspond with us, including our executive editor, professor Yves A. Isidor, via electronic mail:
letters@wehaitians.com; by way of a telephone: 617-852-7672.
Want to send this page or a link to a friend? Click on mail at the top of this window.

Must learndly read, too; in part, of intellectual rigor; in part, the repository of ultimate knowledge
Posted Thursday, April 5, 2007
Former suspect in slaying of Haiti's best-kown journalist shot to death
PORT-AU-PRINCE, Haiti, Apr. 5, 2007: A wealthy businessman once considered a suspect in the assassination of Haiti's best-known journalist was shot to death near his house in an apparent contract killing, police said Thursday.
Robert Lecorps, who also was implicated in the 1993 assassination of a Haitian justice minister, was killed Wednesday in the upscale Port-au-Prince suburb of Pernier, police spokesman Frantz Lerebours said.
Lecorps was shot several times but police have no suspects, Lerebours said. Haitian broadcaster Radio Caraibes FM reported that Lecorps was shot by gunmen riding in a car and that his body lay in the street for hours before being removed.
Lecorps, then in his 60s, had been arrested in connection with the April 3, 2000, slaying of journalist Jean Dominique, but no charges were ever filed.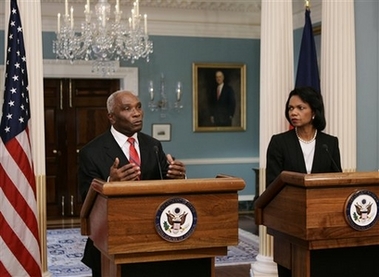 Secretary of State Condoleezza Rice, right, meets with Haiti's Prime Minister Jacques Edouard Alexis to discuss immigration and job creation, Wednesday, April 4, 2007, at the State Department in Washington. (AP Photo/J. Scott Applewhite)
Dominique was gunned down along with a bodyguard outside his radio station on April 3, 2000. The crime remains unsolved and has become a symbol of the impoverished Caribbean nation's broken justice system. Dominique's life was chronicled in the 2003 documentary "The Agronomist," directed by American filmmaker Jonathan Demme.
The probe into the slaying of Dominique â who had become increasingly critical of ousted President Jean-Bertrand Aristide's government has been plagued with problems, including missing case files and the resignation of two investigating judges who received death threats. Two early suspects were killed, one under mysterious circumstances in police custody and another by a mob.
Speaking at a memorial for Dominique on Tuesday, Haitian President Rene Preval vowed to remove any "political obstacles" to solving the case.
Lecorps was a loyalist of late dictator Francois "Papa Doc" Duvalier and was reputed to be a member of Duvalier's feared Tontons-Macoute militia, which terrorized and killed thousands of government opponents.
Lecorps made his fortune in business but was once described by the Washington-based Human Rights Watch-Americas as having "a history of violence and drug-dealing."
In 1996, he was acquitted in the slaying of Haitian Justice Minister Francios Guy Malary. The trial lasted only 15 hours and was widely derided as a sham.
The Associated, April 5, 2007.
RELATED TEXT: Dominique's brutal murder, seven years later
Wehaitians.com, the scholarly journal of democracy and human rights