Correspond with us, including our executive editor, professor Yves A. Isidor, via electronic mail:
letters@wehaitians.com ;by way of a telephone: 617-852-7672.
Want to send this page or a link to a friend? Click on mail at the top of this window.

Must learndly read, too; in part, of intellectual rigor; in part, the repository of ultimate knowledge
Posted Wednesday, April 18, 2007
Haiti slum residents enjoy new peace, want more
By Joseph Gyler Delva, Reuters Writer
PORT-AU-PRINCE, Apr. 18, 2007 (Reuters) - Residents of Haiti's largest slums are enjoying more undisturbed nights since U.N. peacekeepers cleared out armed gangs, but they still want to see food, jobs and other hoped-for benefits of the new peace.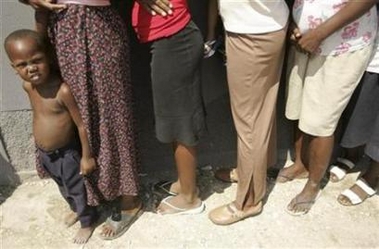 People stand in line wating for medical treatment in the volatile neighborhood of Cite Soleil in Port-au-Prince, in this April 12, 2007 Reuters file photo.
U.N. troops have dismantled a number of street gangs in the capital's sprawling slums since the beginning of the year and forced dozens of feared gang leaders to flee.
But residents say a dearth of social and economic programs may yet hamper efforts to achieve durable stability in Haiti, the poorest country in the Americas.
"It's true the security situation has considerably improved, but you can't eat security. You need food and jobs and schools," said Mackenzy Pierre-Paul, a 32-year-old resident of Cite Soleil, Haiti's largest slum.
"The government and the international community need to rapidly invest in social programs to keep this peace," Pierre-Paul said.
The slums of Port-au-Prince have been gripped by gang violence periodically since former President Jean-Bertrand Aristide was pushed from power by an armed rebellion in 2004.
Under increasing international pressure to control the slums, U.N. troops sent to Haiti after Aristide was ousted launched an offensive more than two months ago that wrested control of Cite Soleil, Martissant and other shantytowns from the gangs.
Some of the most powerful gang leaders, among them Evens Jeune and William "Ti Blan" Baptiste, were arrested.
When the gangs ruled, gunfire often rang out at night and residents cowered in their flimsy shacks, afraid to sleep or move.
BIRTHDAY PARTY
Now schools that had been closed for years have opened their doors. Residents who fled the area are returning, shops have reopened and the street markets are bustling again.
U.N. troops and Haitian police play with children in the streets in areas where they would not have dared set foot three months ago.

Haitian army veteran, Henry Petihomme, on second week of hunger strike in reponse to the treatment of a group of Haitian migrants who arrived, by way of a boat, in Hallandale Beach, Florida, last month. Click10.com
Marijo St-Fort, 37, said she organized a small birthday party for her 10-year-old son Michael this month, for the first time in five years.
"We did not have enough food and drinks to distribute to our guests, but we played music all night and had fun until 1 o'clock," she said. "It would have been unthinkable when the population was living under gang rule. Now we feel free, even though we still go hungry and penniless."
Some residents believe their situation has a better chance to improve because peacekeepers and Haitian police control the streets.
"It was a very good thing to chase away the armed gangs ... because you can't have development, job creation and social progress in places controlled by heavily armed bandits," said Bazil Banatte, who lives in the Bwa Nef area of Cite Soleil.
SHARING LOOT
But some Cite Soleil residents express nostalgia for the rule of the gang leaders, who sometimes shared out kidnapping ransoms and other loot.
"The international community and the government have failed so far to fill the vacuum left by the gangs who used to help the population," said Mirlande Augustin, 27, a mother of four.
There are efforts being made to address the deep social needs, but progress is slow.
President Rene Preval has complained about delays in the disbursement of international funds pledged for Haiti, a nation of 8 million people where most live on less than $2 a day.
"If the donor community and the government do not provide an alternative to the youngsters in the forgotten slums, violence and criminality will always be an option," said Renan Hedouville, head of the Lawyers Committee for Human Rights.
U.S. Secretary of State Condoleezza Rice said this month the Bush administration would provide $20 million to fund social and economic programs in Cite Soleil.
Yele Haiti, a foundation created by Haitian hip-hop artist Wyclef Jean, is distributing food, cleaning streets and paying scholarships for several thousand poor children.
"But only a massive investment program can bring about a structural change in the slums," said Max Henry Dieufene, a Cite Soleil carpenter.
Copyright © 2007 Reuters Limited
Wehaitians.com, the scholarly journal of democracy and human rights