Correspond with us, including our executive editor, professor Yves A. Isidor, via electronic mail:
letters@wehaitians.com; by way of a telephone: 617-852-7672.
Want to send this page or a link to a friend? Click on mail at the top of this window.

Must learndly read, too; in part, of intellectual rigor; in part, the repository of ultimate knowledge
Posted Monday, April 9, 2007
78 Haitians bound for Miami are intercepted at sea
The U.S. Coast Guard said one of their HU-25 Falcon jets from Air Station Miami spotted the 37 foot vessel while on routine patrol off the coast of Haiti early Sunday morning.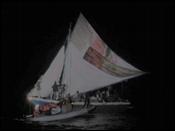 The vessel (CBS4.com)
The Coast Guard Cutter "Forward" intercepted the homemade boat in the Windward Pass. Onboard were 78 Haitians who claimed to be on their way to Miami.
After determining the migrant's boat was dangerously overloaded, crew members from the "Forward" helped them onto the cutter where they were given food, water, and treated for any medical needs. While the transfer was taking place, a Coast Guard HH-60 Jayhawk helicopter from Air Station Clearwater hovered above, ready for any search and rescue that may be needed. After being interviewed, the migrants will be taken back to Haiti.
© MMVII, CBS Broadcasting Inc. Published, April 9, 2007.
Wehaitians.com, the scholarly journal of democracy and human rights