Correspond with us, including our executive editor, professor Yves A. Isidor, via electronic mail:
letters@wehaitians.com; by way of a telephone: 617-852-7672.
Want to send this page or a link to a friend? Click on mail at the top of this window.

Must learnedly read, too; in part, of intellectual rigor

Posted Friday, July 16, 2010

Great grandson of Alexander Graham Bell sentenced to life in prison
By Pete Yost,
Associated Press Writer

WASHINGTON - A federal judge on Friday sentenced a former State Department worker who is the great grandson of Alexander Graham Bell to life in prison without possibility of parole for spying for Cuba and sentenced the man's wife to more than 5 years behind bars for helping her husband steal U.S. secrets. U.S. District Judge Reggie Walton said Kendall and Gwendolyn Myers betrayed the United States for three decades and should receive heavy punishment for having done so.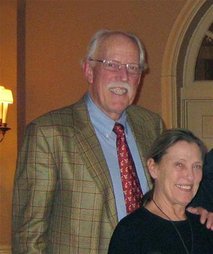 Kendall and Gwendolyn (wife) Myers. (AP/Photo)

In a 10-minute explanation to the judge of his conduct, Kendall Myers said he stole secrets with no intent to harm the United States and that his goal was to pass along information about U.S. policies toward Cuba, a nation that he said feared the United States because of its opposition to the Cuban government.

The judge said he was "perplexed" at how Myers, 73, could believe that he was not hurting the U.S., given the level of antagonism between the two countries.

"The Cuban people feel threatened" and "they have good reason to feel threatened" because the U.S. has pursued a policy of regime change in Cuba, Myers replied.

"Part of our motivation," Myers said of himself and his wife, was to report as accurately as possible about what he thought U.S. policy was toward Cuba, to warn Cuba and to try to assess the nature of the threat.

"At the expense of the United States," Walton interjected.

Justice Department prosecutor Michael Harvey said that Myers and his wife were given medals by Cuban intelligence officials and that in 1995, the two were flown to Cuba where they had a private audience with Fidel Castro.

Kendall Myers had daily access to classified information and he pursued his colleagues in government for more, said Harvey.

When the FBI launched a sting operation that brought the couple down, Kendall Myers was videotaped telling an undercover agent that he wanted to resume his work for Cuba.

"I was actually thinking it would be fun to get back into it," Kendall Myers said on the videotape, according to the prosecutor.

In June 2009, right after the arrests, Castro questioned their timing — just 24 hours after the Organization of American States voted to lift a decades-old suspension of Cuba's membership in that group.

"Doesn't the story of Cuban spying seem really ridiculous to everyone?" Castro asked, without commenting on its validity.

There was no immediate reaction from Havana on Friday to news of the sentences.

Prosecutors said Myers, a descendant of Bell, the inventor of the first practical telephone, was a child of wealth and privilege and could have been anything he wanted to be, but instead chose to spy for Cuba for 30 years from inside the State Department.

Myers's wife, Gwendolyn, 72, was sentenced to 81 months in prison, with time off for the 14 months she has already served. That works out to a sentence of just over 5 and 1/2 years for her.

Defense attorney Tom Green said that the Myerses had undergone hundreds of hours of debriefings by interrogators from multiple federal agencies.

The FBI concluded that Kendall Myers had withheld some information. Green disputed that, saying Myers had worked diligently to recall all of the information that was relevant to the criminal case.

Green pleaded for a shorter sentence for Gwendolyn Myers than the 90 months she could have gotten, saying that she has suffered a heart attack and a couple of minor strokes.

"Ninety months could be a life sentence," Green told the judge.

The judge agreed to recommend to the U.S. Bureau of Prisons that the couple be imprisoned near each other.

The judge cautioned, however, that prisons are places where inmates can readily be radicalized and that he has concerns Myers would impart his political views on them. While behind bars, Kendall Myers has been teaching English to non-English-speaking inmates and has been teaching illiterate prisoners to read.

Copyright © 2010 The Associated Pres
Wehaitians.com, the scholarly journal of democracy and human rights