Criminal charges in Fall River pool death
FALL RIVER — Two former state employees are facing criminal charges for an incident last summer where a woman accidentally drowned in a pool and her body went unnoticed in the murky water until it was found two days later.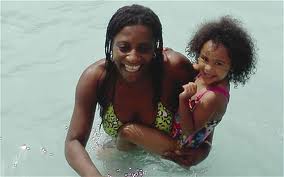 Marie Joseph holding a child minutes before her life tragically came to an end.
Charges of reckless endangerment of a child are being brought against former Department of Conservation and Recreation employees Brian Shanahan, regional director, and Jeff Carter, district manager.
Bristol District Attorney C. Samuel Sutter's office announced that Fall River District Court Judge Brian Gilligan found probable cause on Wednesday to issue criminal complaints against the two men.
Gregg Miliote, a spokesman for the district attorney's office, said no date has been set for their arraignments.
The charges are in connection with the drowning death of Marie Joseph, 36, a mother of five, in Fall River Veterans Memorial Pool, located in Lafayette Park.
Joseph, a hotel housekeeper in Newport, R.I., went to the pool on June 26 and was supervising a child on a water slide when she went under and didn't resurface. Her body remained in the pool for two days until she was discovered.
Shanahan and Carter resigned after the drowning.
Prosecutors believe that children using the pool in the days after Joseph's death were in danger because of its murky conditions.
They say the pool should have been closed because the water was too cloudy.
The judge's ruling is a reversal of Clerk-Magistrate John O'Neil's decision on Nov. 9, where he found no probable cause to support reckless endangerment charges against Shanahan and Carter.
At the time, Sutter said he was disappointed with O'Neil's ruling and appealed the matter to a judge.
The district attorney expressed his pleasure at the judge's ruling in a statement released Wednesday.
"I was convinced at the time we applied for criminal complaints in early October that there was sufficient evidence to do so, and I remain convinced," Sutter said.
The charge of reckless endangerment of a child is a misdemeanor under Massachusetts law and is punishable by a maximum sentence of 2½ years in the House of Correction, according to Miliote.
In Sutter's report of the conditions at the pool, which was released in October, the district attorney was highly critical of the pool's supervision and operation.
"A series of poor decisions, with errors compounding errors, a disregard for regulatory requirement and a disregard for the proper standard for operating the pool pervaded multiple levels of DCR supervision and management," Sutter said in the 20-page report.
The district attorney said "the investigation revealed a repeated willingness to diminish safety standards by re-interpreting the applicable regulation and substituting self-generated standards."