After immediate opposition from foreign diplomats, the news media, including this journal Wehaitians.com, and other critics, Haitian Haitian President Martelly put off his plan to restore the long disbanded Haitian army
By TRENTON DANIEL, Associated Press
PORT-AU-PRINCE, Haiti (AP) — Haiti's president said Friday that his government is putting off a controversial plan to restore the country's disbanded military until a commission can be formed to study if this is the best alternative to the current U.N. peacekeeping force.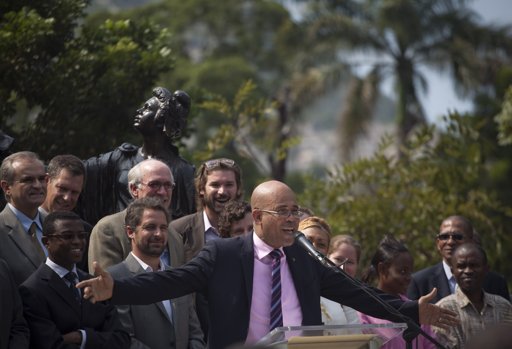 Haiti's President Michel Martelly speaks to a group of people at the inauguration of St. Pierre's public plaza, in Petionville, a Port-au-Prince's suburb, November 11, 2011. (AP Photo/Ramon Espinosa)
President Michel Martelly said he was appointing a civilian commission that over the course of 40 days will identify the goals of a new military force.
The restoration of the military was one of Martelly's campaign promises but drew immediate opposition from foreign diplomats and other critics, who said the country would be better off strengthening its underfunded and undermanned national police force, a point the president addressed in his speech.
"We will work to modernize the police but we need the army to protect the whole nation," Martelly said during a speech in the capital's central plaza to mark a battle that led to independence from France in 1804.
Martelly had said the new military force would patrol the border with the Dominican Republic, protect the country's dwindling forest and keep order during times of national crisis.
A government official had said earlier that Martelly would use the national speech to issue a decree creating the new military. Besides the issue of cost, some critics have expressed alarm at restoring a military that had been notorious for abuses before it was disbanded in 1995 under former President Jean-Bertrand Aristide.
But many in Haiti welcome the military's restoration as a source of potential jobs amid deep poverty — and as a point of national pride. The idea resonates in a country where Martelly and other politicians have denounced the U.N. peacekeeping force that has helped keep order since Aristide's ouster in 2004.
"You can't talk about the withdrawal (of the U.N. force) if you don't have a plan for your own army," Martelly told the crowd.
Copyright © 2011 The Associated Press