Adoptions by Gay Couples Rise, Despite Barriers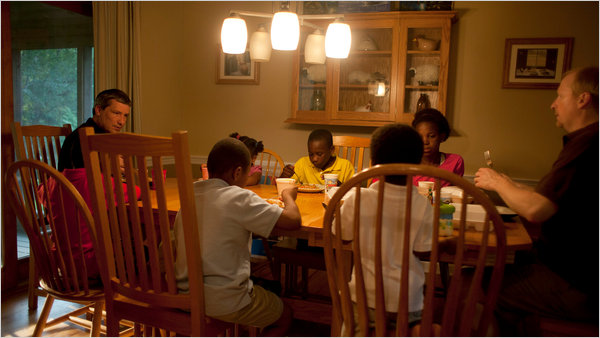 KIRK IRWIN FOR THE NEW YORK TIMES
Matt Lees, left, and his partner, Ray, right, of Worthington, Ohio, adopted eight children, including a 7-month-old, two were born in Haiti and five siblings.
Kirk Irwin for The New York Times
Growing numbers of gay couples across the country are adopting, according to census data, despite an uneven legal landscape that can leave their children without the rights and protections extended to children of heterosexual parents.
Related
KIRK IRWIN FOR THE NEW YORK TIMES

It's a big family: With same-sex marriage illegal in Ohio, custody agreements must suffice.
Same-sex couples are explicitly prohibited from adopting in only two states — Utah and Mississippi — but they face significant legal hurdles in about half of all other states, particularly because they cannot legally marry in those states.
Despite this legal patchwork, the percentage of same-sex parents with adopted children has risen sharply. About 19 percent of same-sex couples raising children reported having an adopted child in the house in 2009, up from just 8 percent in 2000, according to Gary Gates, a demographer at the Williams Institute on Sexual Orientation Law at the University of California, Los Angeles.
"The trend line is absolutely straight up," said Adam Pertman, executive director of the Evan B. Donaldson Adoption Institute, a nonprofit organization working to change adoption policy and practice. "It's now a reality on the ground."
That reality has been shaped by what advocates for gay families say are two distinct trends: the need for homes for children currently waiting for adoption — now about 115,000 in the United States — and the increased acceptance of gays and lesbians in American society.
The American family does not look the same as it did 30 years ago, they argue, and the law has just been slow to catch up.
Most of the legal obstacles facing gay couples intending to adopt stem from prohibitions on marriage, according to the Family Equality Council, an advocacy group for gay families. In most states, gay singles are permitted to adopt.
Though advocates for gay families can point to legal victories — court rulings in Florida last year and in Arkansas in April — they note that they are tempered by losses, such as in Arizona, which passed a law recently requiring social workers to give preference to married heterosexual couples.
"It's two steps forward, one step back," said Ellen Kahn, director of the Family Project at the Human Rights Campaign, a resource for lesbian, gay, bisexual, transgender families and the agencies that work with them.
But laws and politics aside, advocates say that more adoption agencies and social workers are seeing same-sex couples as a badly needed resource for children in government care.
"The reality is we really need foster and adoptive parents, and it doesn't matter what the relationship is," said Moira Weir, director of the job and family services department in Hamilton County, Ohio. "If they can provide a safe and loving home for a child, isn't that what we want?"
The Obama administration has noted the bigger role that gays and lesbians can play in adoptions. The commissioner for the Administration on Children, Youth and Families, Bryan Samuels, sent a memo to that effect to national child welfare agencies in April.
"The child welfare system has come to understand that placing a child in a gay or lesbian family is no greater risk than placing them in a heterosexual family," Mr. Samuels said in an interview.
The numbers are small. Mr. Gates estimates that 65,000 adopted children live in homes in which the head of the household is gay, or about 4 percent of the adopted population.
Ms. Kahn, who trains adoption agencies to work with gay and lesbian prospective parents, said that the number of agencies she works with has more than doubled over the past five years to about 50.
She added that discrimination still remains and that in some conservative states, adoption agencies that serve gay families function like an "underground railroad."
But adoptions are happening anyway, even in places where the law does not give both parents full rights. Matt and Ray Lees, a couple in Worthington, Ohio, said they were selected as parents for a 7-month-old, ahead of several heterosexual couples, in part because they had successfully adopted two older children.
Social workers conducted detailed background checks on both of them, but under Ohio law, they must be married to adopt jointly, so when the legal adoption process began, only one could participate. (Same-sex marriage is illegal in Ohio.)