Correspond with us, including our executive editor, professor Yves A. Isidor, via electronic mail:
letters@wehaitians.com; by way of a telephone: 617-852-7672.
Want to send this page or a link to a friend? Click on mail at the top of this window.

Must learnedly read, too; in part, of intellectual rigor
Posted Tuesday, January 5, 2008
Absolved of terrorism, Haitian still in limbo
The deportation case of a Haitian national acquictted of terrorism charges in Miami may be the first of its kind in the country, and doesn't involve double jeopardy.
Legal experts say Lyglenson Lemorin may be the United States' only lawful permanent resident to be booted out of the country despite being acquitted of terrorism charges and having no prior criminal record.Lyglenson Lemorin must appear this week in front of a judge to argue that he's innocent of terrorism charges -- the very same charges a federal jury acquitted him of in December after a long trial in Miami.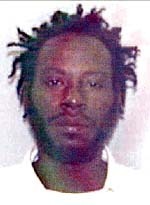 Lyglenson Lemorin
It's not a case of double jeopardy. This time, Lemorin goes before an administrative judge in immigration court, which has a lower standard of proof and no jury of his peers. If he loses his case, he could be deported from Miami to his native Haiti.
Legal experts say Lemorin, 33, who is confined to an immigration facility, may be America's only lawful permanent resident to be booted out of the country despite being acquitted of terrorism charges and having no prior criminal record.
The case is being watched closely by lawyers around the country because it could encourage the government to take similar action against other law-abiding immigrants who are arrested but not convicted of a crime.
''I certainly don't know of a case quite like this one,'' said University of Virginia law professor David Martin, who served as general counsel for the former Immigration and Naturalization Service during the Clinton administration.
Martin and other immigration experts said that while the U.S. government has a vital interest in ridding the country of terrorists, its move to deport the married father of two raises serious questions about whether authorities are unfairly trying to take double-barreled legal shots at him.
''To try to deport him on the same charges he was acquitted of is outrageous,'' said Marc Van Der Hout, a San Francisco attorney with the National Lawyers Guild, who has a long history of battling the government in deportation cases.
The Department of Homeland Security declined to comment about the case, but one immigration official said it appeared to be the first removal case of its kind. The vast majority of deportation cases involve foreign nationals in the country illegally or with criminal convictions.
A minuscule number of such cases in immigration court entail terrorism or national security charges, according to TRAC, a data research organization at Syracuse University.
While Lemorin's case appears unique, immigration authorities have stepped up efforts to deport some lawful permanent residents who have been acquitted of drug trafficking.
Lemorin, who was whisked away from South Florida to Georgia by federal agents in mid-December after he was acquitted of four terrorism conspiracy charges, will have his first appearance in an Atlanta immigration court on Thursday. He is charged with virtually the same ''material-support'' conspiracy offenses lodged against him and six other Miami men in the so-called Liberty City 7 case.
ACQUITTED BY JURY
In December, a 12-member jury acquitted Lemorin and deadlocked on the six other defendants, who were arrested in June 2006 on charges of conspiring with al Qaeda to blow up public and private buildings in a war against the United States. The remaining six defendants started another trial this past week.
Unlike the indictment, the immigration case makes no mention of al Qaeda. A charging document says Lemorin is a native and citizen of Haiti who was admitted as a lawful permanent resident at Miami International Airport on May 17, 1993. Like the indictment, it alleges that he conspired to bomb the FBI building in North Miami Beach and the Sears Tower in Chicago between November 2005 and June 2006.
The document says Lemorin is ''removable'' because he ``conspired to engage in a terrorist activity.''
A team of trial lawyers for Immigration and Customs Enforcement based in Miami is prosecuting the case, which will be heard by an administrative judge in Atlanta. The burden of proof is lower than ''beyond a reasonable doubt,'' the standard in criminal court. Instead, it is ''clear and convincing'' proof, which essentially means that the judge can order Lemorin's removal based on the weight of the evidence.
Lemorin recently obtained an immigration attorney in Atlanta with the help of the Florida Immigration Advocacy Center in Miami.
Lemorin, who faces a tough legal challenge to avoid deportation, was subject to a judge's gag order even after his acquittal because he is a potential witness in the Liberty City retrial. He is allowed to say only that he's innocent.
Lemorin's criminal defense attorney, Joel DeFabio, said his client wants to get his full story out so the public can see the reality of the government's allegations. ''He is not a terrorist and not a danger to the community,'' DeFabio said. ``He could be an asset to the Haitian-American community.''
His wife, Charlene Mingo Lemorin, said her husband's continued detention in a Lumpkin, Ga., immigration facility, has taken a heavy toll on his family. He had worked as a security guard and construction worker with the Liberty City group and was the family's ``bread and butter.''
''To look at the kind of man he is and to see what they have put him through, they should have some sympathy and some common sense,'' said Charlene, a U.S. citizen who lives in Miami Gardens. She said she has to undergo kidney dialysis because of complications from a pregnancy before her husband was arrested in 2006.
Charlene said her husband is afraid, confused and frustrated because he thought he would be a free man after his acquittal.
''I honestly thought in the United States and in a court of law you cannot charge a person twice for the same crime,'' she said. ``I feel like something is wrong with this whole situation. Because of their power, they think they can do whatever they please. But they don't realize they're destroying people's lives.''
Lemorin's case is analogous to a few high-profile immigration cases in recent years. Last October, the U.S. government agreed to end its 20-year effort to deport two immigrants accused of supporting the Popular Front for the Liberation of Palestine, a radical offshoot of the Palestine Liberation Organization. The two Palestinians -- among a group dubbed the L.A. 8, which was accused of distributing a Popular Front magazine -- were lawful permanent residents with no criminal records, according to their attorney, Van Der Hout, of the National Lawyers Guild.
At the time, then-FBI Director William Webster testified before Congress that the agency had found no evidence of criminal or terrorist activity, noting that if they were U.S. citizens, there would not have been a basis to arrest them.
JUDGE'S VIEW
The government's decision to drop the deportation case against the last two defendants followed a federal immigration judge's opinion that it was ''an embarrassment to the rule of law'' that left ''a festering wound'' on the two Palestinian immigrants.
''You have a situation in the L.A. 8 case where the government admitted they did nothing criminal and wanted to use the immigration laws to get rid of them because they didn't like what they were doing politically,'' Van Der Hout said.
He said Lemorin's case is similar in that he was acquitted by a jury, but the government didn't like the outcome so authorities have sought to deport him. ''It's a much tougher row to hoe for the defendant because you have no jury, an immigration judge appointed by the government and lax rules of evidence,'' he said.
Copyright 1996-2007 The Miami Herald Media Company. Reprinted from The Miami Herald of Monday, February 4, 2008.
Wehaitians.com, the scholarly journal of democracy and human rights