Correspond with us, including our executive editor, professor Yves A. Isidor, via electronic mail:
letters@wehaitians.com; by way of a telephone: 617-852-7672.
Want to send this page or a link to a friend? Click on mail at the top of this window.

Must learnedly read, too; in part, of intellectual rigor

Posted Tuesday, December 16, 2008

In Haiti, a violent protest for the same thing, deposed totalitarian dictator Aristide's return

By The Associated Press

Supporters of ousted Haitian President Jean-Bertrand Aristide have clashed with police during a march in the capital.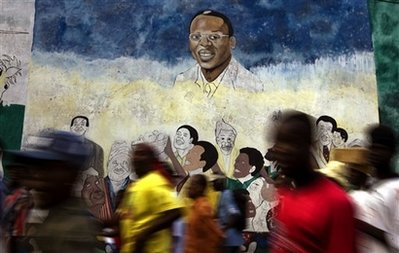 Supporters of ousted Haiti's President Jean-Bertrand Aristide march past a painting of him during a demonstration to demand his return in Port-au-Prince Port-au-Prince, Tuesday, Dec. 16, 2008. Aristide fled Haiti amid an uprising in 2004 and is living in exile in South Africa.(AP Photo/Ramon Espinosa) More Images

Protesters were throwing stones and bottles at police, who blocked their way near the presidential palace. Two Haitian officers have been injured, and police fired shots in the air to disperse the crowd.

Hundreds of people joined Tuesday's march organized by Aristide's Fanmi Lavalas Party. The rally ended peacefully in songs and chanted demands for the resignation of President Rene Preval, a former protege of the ousted leader.

Tuesday is the 18th anniversary of the day Aristide was elected president of the Caribbean nation. He fled Haiti amid a 2004 uprising and is living in exile in South Africa.
Wehaitians.com, the scholarly journal of democracy and human rights