Correspond with us, including our executive editor, professor Yves A. Isidor, via electronic mail:
letters@wehaitians.com; by way of a telephone: 617-852-7672.
Want to send this page or a link to a friend? Click on mail at the top of this window.

Must learnedly read, too; in part, of intellectual rigor
Posted Thursday, February 28, 2008
Defendants in "house slavery" case may be deprived of their liberty for a substantial period of time, if a verdict of culpability is returned against them
FORT LAUDERDALE (AP) "A young Haitian woman testified Wednesday that she considered suicide to escape years of abuse at the hands of a South Florida family accused of keeping her as their slave.
Simone Celestin's voice wavered and she teared up as she recounted her life after being taken as a girl from her mother and grandmother in a remote mountain village to an orphanage run by Evelyn Theodore near Ranquitt, Haiti.
Theodore and her daughter, Maude Paulin, face federal charges that they illegally brought Simone Celestin into the U.S., kept her in involuntary servitude and conspired to violate her civil rights until Celestin escaped in 2005.
Paulin's sister, Claire Telasco, also faces charges of forced labor and conspiracy. Paulin's ex-husband, Saintfort Paulin, faces a federal human trafficking charge. All have pleaded not guilty.
Celestin, now 22, said she lived and worked at Theodore's home in Haiti for about two years, where she was forced to haul water and perform chores. She said Theodore would hit her or keep her home from school if she didn't finish work to her satisfaction.
Celestin said similar abuse continued when she came to the U.S. at age 14.
"They wanted me to come to the U.S.," Celestin said. "I was coming to baby-sit the kid they were going to adopt."
But the adoption never happened. The Paulins divorced in 2001, and Celestin continued living with Maude Paulin and her teenage daughter, Erica.
Celestin said Saintfort Paulin and his daughter tried to stand up for her when Maude Paulin or Theodore would mistreat her. Celestin said it was Maude Paulin who told her she had to sleep in a sleeping bag on the floor and made her choose her clothes from donations collected for Theodore's orphanage.
She said she was allowed only a bucket of water for bathing while the rest of the family took showers.
"When (Maude Paulin) was mad at me, when she wanted to punish me, I had to bathe in the yard," Celestin said.
Her daily chores, she said, consisted of yard work, laundry, making beds, cleaning the bathrooms and scrubbing the floor on her hands and knees.
Defense attorneys said Celestin was allowed short trips to the store or to walk the dog and had visitors at the house. They questioned why she never stated she was being abused or sought help.
The defense insinuated that Celestin's case was motivated by a desire to remain in the country in exchange for participating in the investigation.
"Before you ran away from the Paulin household, one of the things you were looking for help for was to stay here," said Richard Dansoh, the attorney for Maude Paulin.
In court documents filed last year, prosecutors identified Celestin as a so-called "restavek," a term meaning "one who stays with" in Haitian Creole.
There are an estimated 300,000 such poor children in Haiti who work for wealthier families in exchange for food, shelter and the promise of school, though many end up victims of physical and sexual abuse.
Advocates say an unknown number of restaveks are hidden within this country's Haitian immigrant community, which is often loath to discuss the practice with outsiders.
Copyright 2008 The Associated Press.
RELATED TEXT: Ti-Marie, a house slave
In another news, in retrospect to 1974.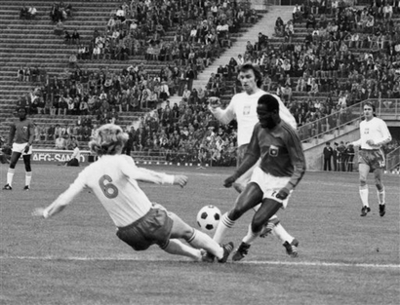 Haiti's Emmanual Sanon, right, is tackled by Poland's Jerzy Gorgon, during their World Cup soccer match in Munich, Germany, in this June 19, 1974 file photo. Sanon died of pancreatic cancer Thursday Feb. 21, 2008 in Florida. He was 56. Known as 'Manno,' Sanon became a Haitian legend in 1974. He scored a go-ahead goal against Italy in his country's lone World Cup appearance, taking a beautiful lead pass, outrunning the defender and leaving stunned goalie Dino Zoff on the ground. His kick snapped Zoff's record 1,142 minutes over two years without allowing a goal. But Italy came back, scored three straight goals and won the game.(AP Photo/File)
Wehaitians.com, the scholarly journal of democracy and human rights