Correspond with us, including our executive editor, professor Yves A. Isidor, via electronic mail:
letters@wehaitians.com; by way of a telephone: 617-852-7672.
Want to send this page or a link to a friend? Click on mail at the top of this window.

Must learnedly read, too; in part, of intellectual rigor
Posted Sunday, January 13, 2008
As a protest against extreme violence-issued President Preval, Prime Minister Alexis progressed, a prominent businessman kidnapped for ransom
By Yves A. Isidor, wehaitians.com executive editor
CAMBRIDGE, MA, Jan. 13 - Dressed in black, as if they were all attending a funeral for a dear friend who expired a few days earlier, after the automobile, for example, he was the conductor, was involved in a fatal accident, thousands of Haitian street vendors marched in the streets of Cap-Haitien, Haiti's second biggest city, Saturday in protest of Preval-Alexis' government for not even attempting to address the problem of fast increasing cost of living.
Blame was also assigned to extreme violence-issued President Preval, who has further brought Haiti into disrepute, for permitting a reduced number of Mafia-type friends to monopolize the never-healthy minuscule economy, as the more than 85 percent perennial unemployment rate also suggests.
Just in case doubt about their rightly protest remained, protesters said a plethora of other problems also deprive them of the means needed to earn an honest living and enjoy a quality of life that is not outside the accepted one, even by Third World standards.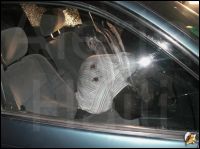 Belourdy Durmonay, 29, an employee of Digicel, a mobile telephone company, violently died after terrorists pumped fatal shots into his body early Tuesday evening, January 8, 2008, in Haiti's capital city of Port-au-Prince. Le Nouvelliste Photo)
However, what the protesters who also demanded that something be done about the long and fast growing problem of kidnapping for ransom were unaware of is that terrorism was ruling somewhere else. Around noon time, terrorists driving a white montero 5.0 automobile kidnapped well-known businessman Eddy Boula, owner of ELF Gas Station, in the Vertières section of Cap-Haitien, for ransom. Six other persons kidnapped with Mr. Boula were released a few hours later as the terrorists were in the process of abandoning their getaway automobile, which witnesses said had a government-issued official license plate, for a rental one.
In the end, protesters had a tubful of personal insults for both, Preval and his Prime Minister Jacques Edouard Alexis. Many expressed their hatred for both men.
Wehaitians.com, the scholarly journal of democracy and human rights