Correspond with us, including our executive editor, professor Yves A. Isidor, via electronic mail:
letters@wehaitians.com; by way of a telephone: 617-852-7672.
Want to send this page or a link to a friend? Click on mail at the top of this window.

Must learnedly read, too; in part, of intellectual rigor

Posted Wednesday, September 9, 2009

A notorious Haitian lethal gang leader, Amaral Duclona, who is wanted by U.S., French authorities, is captured
By Ramon Almanzar, AP Writer

A Haitian gang leader wanted by U.S. and French authorities on kidnapping and homicide charges has been arrested in the Dominican Republic after years on the run, Dominican authorities announced Wednesday.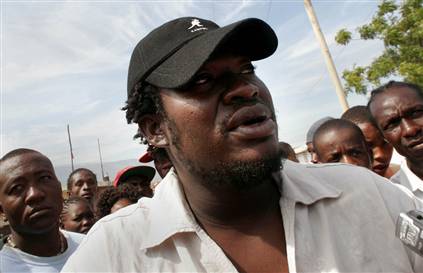 Finally, one of the many lethal chief bandits, Amaral Duclona, is secured chains. (wehaitians.com/file)

Amaral Duclona was captured Tuesday in the eastern Dominican town of La Romana, where he was living under a pseudonym, drug control agency spokesman Roberto Lebron said.

France is seeking the extradition of the 31-year-old suspect in the killing of an honorary French consul in Haiti's northern port city of Cap-Haitien. Paul-Henri Mourral was reportedly pulled from his car and executed by a group of armed men in May 2005 on the outskirts of the Haitian capital of Port-au-Prince.

Duclona was considered a powerful gang leader in the sprawling oceanside shantytown of Cite Soleil, whose followers fought with U.N. peacekeepers in the chaotic years following the 2004 ouster of President Jean-Bertrand Aristide. He defied attempts to disarm, capture or kill him as authorities brought down other gang leaders. Militant Aristide supporters hailed Duclona as a resistance leader, while United States and France sought him on charges of kidnapping and murder. Duclona has denied criminal ties.

A spokeswoman for the U.N. peacekeeping mission in Haiti, Sophie Boutaud de la Combe said the arrest was a positive development in Haiti, where crimes often go unpunished. French Embassy spokesman Milton Orozco had no comment.

When former Aristide ally Rene Preval won the presidency in 2006, he ordered Duclona to disarm, but the gang leader refused. A year later, he escaped a raid on his home by U.N. troops that resulted in the arrest of 17 other gang members. More than 200 slum dwellers protested the raid, saying Duclona had provided them with food and security.

Cite Soleil is now patrolled by Brazilian soldiers and U.N. police, and a large base for Haitian police was built with funds from a $20 million Pentagon initiative to strengthen government institutions in the slum.

___ Associated Press Writer Jonathan M. Katz contributed to this report from Port-au-Prince, Haiti.
Wehaitians.com, the scholarly journal of democracy and human rights