Want to send this page or a link to a friend? Click on mail at the top of this window.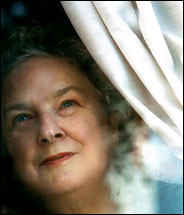 Lans Slezic for The New York Times
Elaine Fantham, NPR commentator, offers perspective from ancient Rome on any pre-emptive war in Iraq.
A Lesson on Iraq From a Classicist
If you want a preview of what might occur if the United States were to invade Iraq, Elaine Fantham suggests looking at what happened in 53 B.C. when the Romans marched into the territory that is now Iraq. Ms. Fantham, 69, is National Public Radio's mischievous, fruity-voiced classics commentator on "Weekend Edition," and her specialty is drawing parallels between the ancient world and us.
As she explained to listeners of her occasional broadcasts, the territory was ruled by the Parthians, who are related to modern-day Iranians. The power-hungry Roman general Crassus set out for the Parthian territory with seven legions. He marched his army into the middle of the desert where, parched, hungry and unused to the terrain, he was roundly defeated by the entrenched Parthians. Crassus' and his son's heads were cut off and used as props by a Greek acting troupe to entertain the Parthian and Armenian kings at a dinner party.
Not a particularly inviting prospect, but as Ms. Fantham, president-elect of the American Philological Association, explained in a recent phone interview, one Americans should pay attention to.
"You, George Bush!" said Ms. Fantham in her English accent with a slight speech impediment that turns all her "r's" into "w's." "You, Donald Rumsfeld and your advisers, you don't know what you are letting yourself in for!"
Just as there was no act of aggression against Rome to prompt an attack against the Parthians, Ms. Fantham argued, there has been no act of aggression by Iraq against the United States. Still, Ms. Fantham, who has also recorded commentaries for NPR on the Greek goddess of spring, the feast of Saturnalia, the Roman calendar, the vestal virgins and the Roman god of mildew, is wary of drawing too exact parallels between past and present.
"My great teacher used to get upset with me when I made historical parallels," she said. "You cannot help your heart making parallels and then you have to use your mind to say, `Yes, but . . .' " Ms. Fantham's interest in ancient Rome began when she was a child in Liverpool, England, she said. Her father was employed in local government, her mother was a teacher who stopped working because married women were not allowed to teach. But she saved money to send her daughter to a private girls' school.
"She wanted me to have what she hadn't," Ms. Fantham said. Ms. Fantham began studying Latin at 9, she said, and loved it.
Later, at Oxford, she focused on the period of the Roman Republic from 264 B.C., the First Punic War, to 44 B.C., the death of Julius Caesar. Rome was under attack and part of the time fighting the Punic wars against Carthage. "Hannibal brought his army right up to the gates of Rome," she said. "Rome was a war city. We used to compare it with Hitler crossing the British Channel. Rome almost didn't survive. When I was a little kid, the whole of Europe was occupied by Germany. Britain stood alone. I remember it all. I've always been sympathetic with the underdogs."
At Oxford and later in graduate school at the University of Liverpool, she grew interested in social history, the new movement to study ordinary people: for the classical period this meant women and slaves instead of great men, as was the fashion.
She explained that she was able to learn about the Roman underclass by studying the Roman comedies. "They were like sitcoms," she said. "In the comedies, the slaves were the heroes. They were the intriguers, who helped the young master marry the girl he loved, rather than the person his father wanted him to marry. The slaves had at least that power."
Ms. Fantham's dissertation was "A Commentary on the Curculio of Plautus," the Roman playwright whose work became the basis for "A Funny Thing Happened on the Way to the Forum."
In 1958 she married Peter Fantham, a mathematician. She followed her husband to the University of St. Andrews in Scotland, where he taught. She, too, applied for a full-time teaching job. "I was warned by my teachers that the professor who had the power to appoint would never appoint a woman, let alone a married woman," Ms. Fantham said. "I was the only candidate. I had all the qualifications, but he wrote to Oxford to ask for a young man."
The man Oxford recommended "didn't have the qualifications," she said. "I had a summa cum laude; he had a magna. I had a graduate degree, and he didn't." Even so, she did not get the job.
Mr. Fantham grew tired of university politics, she said, and the family, which by now included a daughter, Julia, moved to Bloomington, Ind., where Mr. Fantham had a job at Indiana University, and Ms. Fantham also taught. In 1971 the Fanthams, who also had a son, Roy, moved again, to the University of Toronto in Canada, where both taught. In 1982, Ms. Fantham's book "Seneca's `Troades,' " a groundbreaking study of the influence Virgil, Euripides and Ovid had on Seneca's "Trojan Women," caught the attention of Princeton. She was hired there, at age 53. Her husband remained in Toronto and she commuted.
"By the time I was a full professor, at Toronto, being a woman was an asset," she said.
At Princeton, Ms. Fantham was often called on to write Latin inscriptions for university events. She became involved with NPR about six years ago, she said, when the classics department received a phone call from the organization asking about the origin of the term "halcyon days." "They had a habit of phoning up Princeton when they wanted information," she said.
Well, Ms. Fantham had the answer. "Halcyon days" means days of peace and tranquillity. The term is from the myth of Alcyone, daughter of Aeolus, and wife of Ceyx. When Ceyx drowned, Alcyone threw herself into the sea. The gods took pity on her, changed her and her husband into kingfishers, and forbade the winds to blow for seven days before and after the winter solstice so that the birds could breed on the ocean's surface.
In 1992, Ms. Fantham's husband died suddenly, and in 1999 she retired from Princeton. Today she lives part of the year in Toronto, surrounded by her collection of some 140 frog figures. She also spends time doing research in Cambridge, England. She is writing an introduction to Ovid's "Metamorphoses." She is also working on another, longer book, "The Roman World of Cicero's `De Oratore,' " contrasting Cicero's recommendations for the training of the ideal statesman to the political realities of his time.
"The republican constitution was increasingly overridden and violated by men of military power," she said. And Cicero's ideals were impossible to achieve.
Any parallels to today? If anything, Ms. Fantham said, the problem is the reverse. Today, "the chief executive has too much power." She continued: "Why the Founding Fathers were dumb enough to have a president, I don't know. It worked while they were highly educated people, but they are getting worse all the time."
Copyright 2003 The New York Times Company.
Reprinted from The New York Times, Arts & Ideas, of February 8, 2003.
Wehaitians.com, the scholarly journal of democracy and human rights