Correspond with us, including our executive editor, professor Yves A. Isidor, via electronic mail:
letters@wehaitians.com; by way of a telephone: 617-852-7672.
Want to send this page or a link to a friend? Click on mail at the top of this window.

Must learnedly read, too; in part, of intellectual rigor
Posted Friday, January 2, 2009
A funeral in Boston, one week after a tree terminated the lives of two citizens of Haitian descent
By Yves A. Isidor, wehaitians.com executive editor
CAMBRIDGE, MA, Jan. 2 - A religious ceremony marking the tragic death of Joel Baudouin, 42, and that of his mother, Marie Andree (Joseph) Vernet, 70, after a tree fell on the moving automobile they occupied on Christmas Day, while they were traveling along the Garden State Parkway, in the state of New Jersey, to visit relatives in the state of the same name, and were approximately 10 minutes from their ultimate destination, was held today at Temple Salem, a Haitian-American Seventh Day Adventist temple, in the Dorchester section of Boston.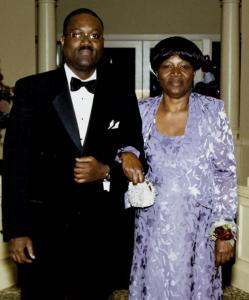 Joel Baudouin, left, and his mother, Marie Andree (Joseph) Vernet, in an undated photo. Courtesy of family members.
The funeral service, which was conducted nearly equally in the French and English languages, was officiated by a multitude of Haitian-American ministers, including Pastor Pierre E. Laguerre, who delivered an homely.
"Yes, they are no longer with us; they met a tragic end; but since God did not abandon Abel we must conclude that God did not abandon Joel and Marie," eloquently said Pastor Laguerre, a religious sentiment that was echoed by many of his fellow pastors, also in a brief interview with wehaitians.com immediately after the service.
The caskets containing the remains of the tragic accident victims remained closed for the duration of the funeral service, which commenced at 10:00AM and ended at 12:06PM. An undated joint photograph of the late Mr. Baudouin and Ms. Vernet, when they were alive, was seen nearby, permitting participants, principally those who did not know the deceased mother and son, to visualize them in life.
Approximately 800 people, all properly dressed, excerpt for one young female who had a red scarf wrapped around her neck, were in attendance for the circumstance, and nearly all of the participants were of Haitian descent.
"We shall not see its like again, that is this type of funeral service," one participant told wehaitians.com. Perhaps this was the reason why, with the help of their cellular telephones, a few of those in attendance recorded the funeral service held in relation to the cessation of existence of Mr. Baudouin and his mother, Ms. Vernet.
The response of the vast majority of the participants to the tragic way in which Mr. Baudouin and Ms. Vernet's lives ended was emotional, replete with the sense of great sadness.
Immediately after the ceremony, the burial procession accompanied the bodies to the cemetery, but not before participants, from the temple's balcony, followed by immediate and distant family members, and ultimately participants, also in the principal section of the house of God, with a capacity of 1,200, according to two longtime church members who spoke to wehaitians.com on the customary condition of anonymity because they were not authorized to speak to the press, commenced to depart.
In addition to his wife, Jousefie Baudouin, Mr. Baudouin is survived by his father, Edouard Baudouin, who departed the temple with the help of a walker; his older half-brother, Doctor Jean-Marie Jocelyn Cantave, and, yes, too, his many other siblings and their spouses.
The late Ms. Vernet is also survived by her many grand-daughters, including Asleigh and Melissa Baudouin.
Augustine stresses that "the knowledge of nonsensible realities is always problematic and approximate at best," though he agrees that "the human predicament of unknown will be overcome in the next life, where the saved can encounter God, truth face to face."
We are not only wishing that they rest in peace, as is customary, but are convinced that in the arithmetic of candidates for encountering God, truth face to face, the deceased mother and son already have or will soon experience difficulties, with the numerical value of zero, that is none at all, to be rightly welcomed by God.
Prof. Yves A. Isidor and wehaitians.com offer their expressions of condolences to the family of the tragic accident victims.
NOTE: Information, as in this news article, was a few hours ago presented by Yves A. Isidor on Vwa Lakay (literally, home voice), a Boston's superbly popular daily radio magazine program, broadcast on WNTN1550AM. Internet address: wntn1550am.com.
Wehaitians.com, the scholarly journal of democracy and human rights