Want to send this page or a link to a friend? Click on mail at the top of this window.
A former doorman, Haitian-American motivational speaker opens doors for others
By TONI MARSHALL, Sun-Sentinel Staff Writer
Covered with dirt and ashes, Rene Godefroy arrived in this country as a 21-year-old wedged between the dusty rear tires on the underside of a truck. He paid a driver $700 to smuggle him across the Canadian border into the United States after breaking away from a Haitian theater group on tour in Montreal.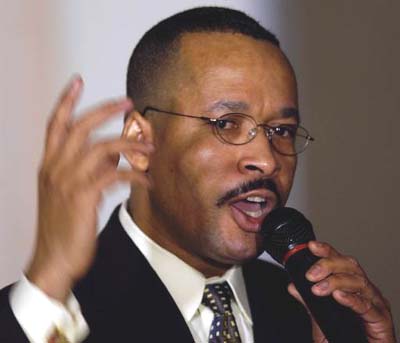 | | |
| --- | --- |
| Rene Godefroy | Photo: Steve Mitchell/Sun-Sentinel |
"God, if you let me make it to America, I will do something meaningful with my life," said Godefroy, recalling how he prayed that his trek from Haiti to New York City in the early 1980s wouldn't be in vain.
Godefroy entered New York with only a few dollars and a change of clothing; but he couldn't speak the language.
Twenty years later, he's motivating audiences in his adopted tongue -- English. This acquired gift for gab has lifted him from poverty to position. To hire Godefroy can cost as much as $5,000 for corporations, but nonprofits get a big break, sometimes even free of charge. He's also started a philanthropic foundation and returned to Haiti last year to open a clinic. The former doorman now has doors opening for him.
Today, he hopes to inspire other Haitian-Americans as the keynote speaker at Minority Development & Empowerment Inc.'s Haitian Flag Day salute from 6 to 9 p.m. at the Broward Center for the Performing Arts in Fort Lauderdale. On Tuesday, he has a 9:30 a.m. address to students at Coral Springs High. Haitian Flag Day, a celebration of that country's independence from France, actually fell on Sunday.
"I was learning English by writing three words on my hands. At the end of the week I learned three words," said Godefroy, 41, from his home near Atlanta. "I bought children's books because the language was easier."
After he arrived in the United States, Godefroy worked menial jobs from New York to Miami. He eventually ended up in Atlanta working as a hotel bellhop. At the hotel, he often catered to motivational speakers.
Patterning himself after big-ticket motivational speakers Les Brown and Keith Harrell, Godefroy has spent the last year pushing his book, No Condition is Permanent.
He routinely visits universities and colleges with a "you can do it" message. And he has delivered speeches at events for corporate giants such as Coca-Cola and Charles Schwab, he said. He was featured on 60 Minutes. He recently delivered the keynote address at Radio Haiti's annual banquet in Fort Lauderdale.
The Haitian Flag Day salute, which stretched for more than a week this year, culminating with Minority Development's event, has provided him with an opportunity to come back to South Florida and share his message with fellow Haitians, he said.
"Rene is one of the fastest rising stars in the Haitian community. He's one of those individuals who has crossed over," explained Minority Development's Marvin Dejean. Already on the speaker's circuit for mainstream America, Godefroy is beginning to get more attention from his own countrymen.
"Getting him was a super coup for us," Dejean said. He's already gotten roughly 170 responses from folks poised to take advantage of Godefroy's performance. The Performing Arts Center's New River room holds 200.
"For as long as I have been speaking for Americans, I didn't really know that Haitians would embrace the message," Godefroy said. Yet, he's found that his mantra, "no condition is permanent," also strikes a chord with them.
His message reaches all because it is an example of determination, said Danielle Bright of the Haitian American Parents Association in Spring Valley, N.Y. where Godefroy recently spoke for career day.
"A lot of immigrants have succeeded in this country," she said. "But coming to this country and not speaking the language and deciding to be a motivational speaker, that's what I call pushing the limit."
It was always Godefroy's dream to come to America. He got his chance after an agent saw him playing drums in a small Catholic church. A Haitian theater group invited his troupe to Montreal. He used most of his money from those performances to pay the truck driver to smuggle him across the border.
In 1998, so inspired by other motivational speakers, he became determined to join their ranks. He studied, watched tapes, read lots of books, took classes and listened to the speakers who flowed in and out of Atlanta's Renaissance Waverly Hotel, where he worked for almost a decade.
He saved enough tip money to attend a National Speakers Convention and ran into some of the same people he opened doors for in Atlanta. He later sent them a "raw" video of himself delivering a speech. They were impressed by his story and how he saved his tips to get to one of their conventions. In 2000, they invited him back as one of the keynote speakers.
Recalling the day he first performed in front of the group, he reminded his fellow speaker: "This is your doorman from Atlanta, sir. I told you I was going to become a motivational speaker."
Toni Marshall can be reached at tmarshall@sun-sentinel.com or 954-572-2004.
Anthony Man PoliticaCopyright 2003, Sun-Sentinel Co. & South Florida Interactive, Inc. Reprinted from The Sun-Sentinel of May 19, 2003.
Wehaitians.com, the scholarly journal of democracy and human rights