Want to send this page or a link to a friend? Click on mail at the top of this window.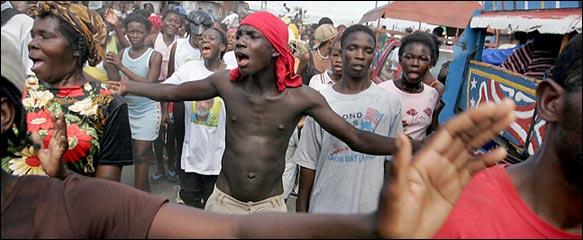 Tyler Hicks/The New York Times
Haitian elections, under United Nations supervision, are promised for December. Supporters of René Préval rallied rencently in Port-au-Prince.
A Bitterly Divided Haiti Is Lurching Toward an Election
PORT-AU-PRINCE, Haiti, Oct. 29 - Twenty months after a violent uprising forced President Jean-Bertrand Aristide into exile, the road to new elections here in the hemisphere's poorest nation remains planted with land mines.
A presidential hopeful, Dumarsais Siméus, ran over one last week. With great fanfare, he began a campaign rally in Solino, a crumbling and crime-plagued neighborhood of the Haitian capital. Throngs of people turned the dirty, foul-smelling streets into a party, singing to Mr. Siméus and waving his campaign T-shirts in the air like banners.
"Siméus, Siméus, you are the one we have been looking for," they sang. "Now we are free."
The singing followed Mr. Siméus's campaign caravan for miles, until he reached the Bel Air neighborhood, an Aristide stronghold. There, dozens of angry men and women rushed onto the streets, hurling rocks and chunks of concrete at Mr. Siméus's car, forcing him to flee.
"That man has never done anything in this country," Fleurette Pierre shouted from the crowd. "The only one who ever did anything for the poor is Aristide.
"If the world does not want to see blood on the streets," she added, "then they will bring him back."
Despite hundreds of millions of dollars in international aid and the deployment of some 7,000 United Nations peacekeepers, scenes like this show that Haiti remains mired in civil unrest, divided between the elite and a segment of the nation's poor masses that remains fiercely loyal to Mr. Aristide.
Juan Gabriel Valdés, chief of the United Nations Mission to Haiti, said killings and kidnappings by street gangs and corrupt police officers had declined after his troops cracked down on the gangs, known as chimères, last summer, killing several of their top leaders, and after a newly appointed police chief arrested 15 officers suspected of abuses.
However, he acknowledged that the gangs continued to operate in the poorest areas of the city - a peacekeeper was shot to death in the violent Cité Soleil section of the city last week - and that Haiti, a country with almost no functioning institutions, was not ready to stand on its own.
"If we are looking at this election as a magic solution, or as an excuse for the international community to leave Haiti," Mr. Valdés said, "then Haiti is not ready for that."
The United Nations has registered more than 70 percent of eligible voters, authorities here say, but the Haitian government's Provisional Electoral Council, crippled by infighting, has still not made final the slate of candidates or even set a date for the elections except to make vague promises that they will be held sometime in December and that a president will be sworn in on Feb. 7.
Some openly wonder in this polarized and insecure atmosphere whether the country is ready for elections. And a walk through almost any poor neighborhood - past gang members, small mountains of garbage, canals flowing with human waste, into homes as dark and depressing as caves - makes it hard not to wonder whether elections will help solve Haiti's most pressing problems.
People like Garraud Josef, unemployed almost all of his 51 years, keeps hoping. He, his wife and their five children live in Solino, in an overcrowded labyrinth of concrete houses less than a foot apart from one another. His wife makes a about a dollar a day selling rice that she cooks over a charcoal grill in the alley.
They cannot afford to send any of their children to school. One of them, a 17-year-old with a developmental disorder that makes him look 10, sits in a chair in the back of the dank, dark house all day, rocking.
When asked why he planned to vote, Mr. Josef, a determined skeleton of a man, said: "After all the elections, things have not really changed. But you never know. We have to try."
Others seemed fed up. Democracy has given so many so little that the streets rumble faintly with nostalgia for the dictator Jean-Claude Duvalier, forced from power in 1986.
"We can only believe in God," said Jean-Louis Silione, 29, a street merchant. "Every time we vote, but still there is poverty. Every time we vote, but still there is killing. Every time we vote, and still there is misery. So why should we vote?"
Another hard question he faces is whom to vote for. At least 34 people have declared their intention to run, including top officials of past dictatorships, former aides to Mr. Aristide (Putting former Haitian murderous dictator and druglord Aristide in tight handcuffs, whose job is that?) and a former police chief suspected of drug trafficking by the United States (it is largely believed to be ready to indict former tyrant Aristide for drug trafficking).
"I don't care what they said about me," said Guy Philippe, the former police chief. "I am running to serve my country, not the international community."
Although Mr. Aristide's hold on the country's poor masses has weakened, the so-called "slum priest," who has been accused of using street gangs to suppress his opponents, remains a kind of phantom force in the elections.
The presence of 7,000 United Nations peacekeepers has not quited unrest.
In July, the United States-backed interim government detained the country's most popular political figure and heir to Mr. Aristide's vast Lavalas party, the Rev. Gérard Jean-Juste, on dubious murder charges.
"The people in power stole the government from President Aristide," Father Jean-Juste said in an interview from prison. "They are trying to silence me. This is their way to destroy Lavalas."
Since then, Lavalas has been split, with the leadership backing former Prime Minister Marc Bazin and grass-roots groups supporting former President René Préval.
Mr. Préval, a protégé of Mr. Aristide, is widely considered the most popular candidate in the race, even though he has made almost no public statements about his aspirations or plans for governing. He was the only Haitian president ever to finish a full term, and is widely remembered among the poor for building roads, schools and hospitals.
"Préval doesn't have to say Lavalas; people know him as Lavalas," said a political observer who asked not to be identified because he is working for another candidate. "Lavalas followers continue to be the majority of the country."
Mr. Siméus, the son of Haitian peasants who is now one of America's most successful black entrepreneurs, looks to the poor to help him win the presidency.
As soon as he filed to run for president three months ago, the government announced he was not eligible because he had renounced his Haitian citizenship to become a naturalized citizen of the United States, and had not lived in Haiti for five years before to the elections, as required by the Constitution.
Mr. Siméus challenged the decision before the Supreme Court. The five judges unanimously decided in his favor, and ordered the government to allow him to run.
The government has looked for ways to get around that ruling, and political observers said the legal battles against Mr. Siméus could force the elections to be delayed until next year.
"Haitians here have always been afraid of our diaspora," said Micha Gaillard, a political organizer, "because we fear they will come back and replace us."
In an interview in his hotel suite, with his shoes off and the top buttons of his shirt open after a long day of campaigning, Mr. Siméus said the fear driving the opposition to his campaign was only among the elite.
"I represent someone with a big vision to change the status quo and break the backbone of the little clique that has dominated this country for too long," he said.
The stones thrown at his caravan in Bel Air may have dented a car or two, but the songs from the crowds in Solino, he said, rang louder in his ears.
Casimir Jean-Claude, 33, was one of those at the Siméus rally.
"We are not going to give our vote to a poor man anymore," he said. "We did that with Aristide, and he stabbed us in the back. Now we want a man who knows how to make money."
Copyright 2005 The New York Times Company. Reprinted from The New York Times, International, of Sunday, October 30, 2005.
Wehaitians.com, the scholarly journal of democracy and human rights