Correspond with us, including our executive editor, professor Yves A. Isidor, via electronic mail:
letters@wehaitians.com; by way of a telephone: 617-852-7672.
Want to send this page or a link to a friend? Click on mail at the top of this window.

Must learnedly read, too; in part, of intellectual rigor
Posted Tuesday, March 25, 2008
A quasi-minuscule army, comprising of DEA, FBI agents, again fails to arrest former Haitian rebel leader Philippe
PORT-AU-PRINCE, March 25 (Reuters) - U.S. Drug Enforcement Administration agents stormed the rural Haitian home of former rebel leader Guy Philippe on Tuesday but the accused cocaine smuggler escaped for the second time in eight months.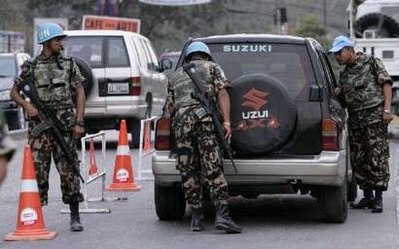 U.N. peacekeepers inspect a car during a checkpoint on a street in Port-au-Prince, Haiti Tuesday, March 25, 2008. (REUTERS/Eduardo Munoz)
About two dozen DEA, FBI and Haitian anti-drug agents searched for Philippe with helicopters, fast boats and vehicles in the early morning raid in the southern seaside town of Pestel, near Jeremie, local officials and witnesses said.
"They arrived in the middle of the night and they terrorized the population with heavy detonations and stormed people's homes," the mayor of Pestel, Lavillet Trezil, told Reuters in a telephone interview.
"They handcuffed and brutalized several people as they searched house after house to look for Guy Philippe," said Trezil, who added he thought the operation was illegal. "Haiti is a sovereign country and as a mayor I was never informed."
The raid was the second attempt by DEA agents and Haitian anti-drug police to arrest Philippe, who is accused by U.S. justice officials of smuggling cocaine into the United States.
Philippe, a former military officer, police chief and unsuccessful presidential candidate in 2006, denies the drug charges. He was a leader of an armed revolt in 2004 that ousted Jean-Bertrand Aristide as president. Philippe escaped a similar raid last July on his residence in the village of Bergeau, near Les Cayes.
In a recent phone interview with Reuters from a hiding place, Philippe claimed he was a victim of a plot by the United States and its allies to eliminate him.
"They have a plan to kill me because I stood for the rights of my people, not because I am involved in drug trafficking, because they know it is not true," Philippe said on his birthday on Feb. 29.
"If they knew I was really a drug trafficker, they would have arrested me a long time ago because I was always here going about my activities," he said.
"If I have to die, I will die with my head up, not down, and with the dignity and courage of a fighter."
Officials at the U.S. embassy in Port-au-Prince declined to comment. The U.S. attorney's office for the southern district of Florida, where the charges against Philippe were brought, according to media reports, did not immediately respond to a request for comment.
(Editing by Michael Christie and John O'Callaghan)
Wehaitians.com, the scholarly journal of democracy and human rights