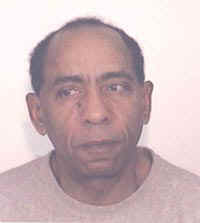 DEA fugitive, GASTON John Robert
NAME:GASTON, John Robert
FUGITIVE NCIC#: W086487476
WANTED FOR: The following: Conspiracy to Distribute Methamphetamine and Manufacture.
JURISDICTION: Central District of California
AKA:GASTON, Jean Robert.
RACE: Black
SEX: Male
HEIGHT: 5' 10"
WEIGHT: 175
HAIR: Black
EYES: Brown
DOB: 12-13-1943
POB: HAITI
LAST KNOWN ADDRESS: 301 E. 79th Street, Manhattan, New York; 1625 Maisonneuve West, Montreal, Canada
NOTE:Armed and Dangerous.
Do not attempt to apprehend this individual.
Call the U.S. Marshals Service 24-hour number 1-877-WANTED2 (1-877-926-8332) or the nearest DEA office with information.
Rewards are available at the discretion of the U.S. Marshals Service.