Want to send this page or a link to a friend? Click on mail at the top of this window.
First published January 21, 2001
Aristide, the Man who Turns to Voodoo to Place a Curse on Presumed Enemies
__________________
Still, now there are more than just encouraging signs in Haiti, as well as in Haitian diasporas, for a better future in the troubled Caribbean nation.
CAMBRIDGE, MA - Vill Cleopatra, queen of Egypt, is said to have bathed in asses' milk to stay young and beautiful, but did not live long enough to find out if it worked in old age.
Years before the snake bite that is said to have caused her premature death, she was the mistress of Julius Caesar, the emperor of ancient Rome.
Cleopatra aligned herself with Mark Anthony, and bore his children after Caesar was assassinated in 44 B.C.
Cleopatra, the queen of many men, like former Philippine's first lady, Imelda Marcos, is known as the lady of many shoes, at least two thousand pairs, noted for her beauty and charisma, along with her lover Anthony, whose chief rival was Octavius, and who later became the emperor Augustus, were defeated at the battle of Actium, according to many historians.
While today the mention of the name Cleopatra to citizens from around the world who are not persons of high culture may be like addressing them in the long dead Latin language, more than 2000 years later, however, history again repeated itself. This time, not in Egypt, but in Haiti rather, where a man was bathed in human blood, in lieu of asses' milk.
Sure, the purpose of bathing in so was far from staying young and beautiful because the man in question does not have the image that often causes women to express interest in courting men. And because he looks more like a boy than a man, though he is now in his late 40s, he is often thought to have suffered from extreme malnutrition in the very first years of his life.
The man, who I'm now identifying, as tardy as I may be in doing so, is Jean-Bertrand Aristide, Haiti's leftist dictator, Haiti's chief bandit.
Leftist Aristide, who claims to be a prophet, a messiah, reportedly was bathed in November in the blood of a dead Haitian by voodoo priestess (voodoo ceremony), Marie-Anne Auguste, commonly known as So An.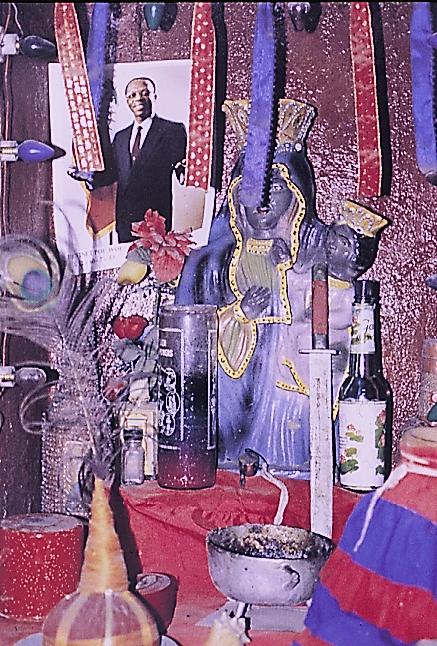 Tyrant Jean-Bertrand Aristide's photograph, at Voodoo ceremony. (wehaitians.com Photo)
The purpose of bathing in so, said a senior member of Aristide's Lavalas Family Party, also known as the party of Satan, the party of death, who pleaded with us (wehaitians.com) for anonymity, was in an effort to place a curse on then U.S. Rep. presidential candidate, George W. Bush, and his Dem. rival, U.S. Vice-President, Albert Gore, would, hopefully, emerge as the winner of the Nov. election.
Haiti, which for a longtime enjoyed considerable support from the Clinton's administration would, hopefully, have a man, including a friend, in the White House it could count on, added the senior party member.
What did radical leftist and totalitarian dictator Aristide think of a Bush's presidency? To be precise, after it was announced that Bush was, indeed, the president-elect, later November.
It may help the democratic Haitian opposition, better known as the Convergence Democratique - a 15-party coalition - lock Haiti's Palais National's (White House) doors, reinforced them all with iron bars, on Feb. 7th, to prevent him (Aristide) from assuming the presidency for a second time after he was elected in a November sham election.
In an attempt to reach to the incoming Bush's administration, leftist Aristide told outgoing U.S. President Bill Clinton in a Dec. 27th letter of promises that he was committed to broad range of government and political reforms, including strengthening democratic institutions with a semi-permanent commission of the Organization of American States (OAS) and through international monitoring of human rights.
The list of promises made by leftist Aristide in his Dec. 27th letter to then U.S. President Clinton could easily pass for a list of presents that a Haiti's Haitian preferred son wanted his mother to purchase for him for Christmas since he did not expert a visit from Saint Nicholas, who was born in Bakara, but now Turkey.
Aristide said he will enhance drug enforcement cooperation between Haiti and the U.S., that will allow U.S.coast Guard chasing suspected drug boats to enter Haitian waters and arrest traffickers. However, no promise was made about turning a few imposter Senators, including Danny Toussaint, Florel Celestin and Joseph Medard, over to U.S. authorities so they could all be prosecuted afterward for helping turning Haiti into a narcotics-state. Also, for using proceeds from the sale of their illicit goods in the U.S. to pay for the cost of terrorism-related activities in Haiti. Nor did he promise to turn himself in to U.S. authorities since he often receives millions of narco-dollars from drug barons buying protection. The late Roland Ceide, for example, figures on the list of those who have given millions of dollars to leftist Aristide in return for protection.
| | | |
| --- | --- | --- |
| | | |
| Infant Haitian boat people | | Adult Haitian boat people |
Haitian immigrants, now living in the U.S. without proper documents (i.e., a valid green card) should be deported to Haiti, and he will welcome them (including the boat people infant in the above picture, left), further read Aristide's letter).

In the meantime, as life is becoming harder in Haiti for Haitians a great many of them continue to flee the Caribbean nation for Florida, U.S.A. in search of economic opportunities, in search of political freedom. Like the ones in the photographs above, including the infant boat people,166 Haitians were repatriated to Haiti on Dec. 27th, three days after their 60-foot (18-metre) flimsy boat was intercepted by U.S. Coast Guard, as it was taken in water, 40 miles north of Haiti.

And, imagine you are elected Senator.Yet you are sworn-in a few weeks afterward and start making financial plans for the number of years you will spend in parliament. Unfortunately, after a few months in the legislature, you learn through the news media that a fraudulent leftist president-elect, a deranged man who is said to consume the drug lithium for breakfast, and whose party of which you are a member sends a letter, dated Dec. 27th, to U.S. President Bill Clinton, promising him that there will be a runoff for your parliamentary seat. That, in fact, is now the predicament of 10 Haitian Senators - all of them were fraudulently elected in the May 21st elections. However, no mention of the Nov. 26th presidential charade, which leftist Aristide claimed to overwhelmingly win, was made in that letter.

Also read leftist Aristide's letter to then U.S. President Clinton was a promise to establish a credible electoral council.

All that explains results for a series of elections, including those for the Nov. 26th presidential election, cannot and should not be accepted by the majority of Haitians and the international community as well. Aristide and cohorts should extend an apology for repeatedly deceiving them all, for repeatedly orchestrating what the Haitian opposition continues to call "an incalculable number of grand frauds worthy of Stalin," in the Western Hemisphere's poorest nation, in the Western Hemisphere's disorderly nation that is Haiti. They should all then permanently distance themselves from Haitian political affairs.

Sure there were reactions to leftist Aristide's promise to professionalize the police and the judiciary, too, but this time from the U.S. House of Representatives.

"The promises being made by Jean-Bertrand Aristide are important. The proof, however, will be the implementation of those promises. Regrettably, Mr. Aristide's record in this regard has not been encouraging. The conduct of our nation's future policy towards Haiti, including any progress in Haiti, will be decided by President-elect George W. Bush's administration," said U.S. House of International Relations Chairman Benjamin Gilman (R-NY) and Rep. Porter Goss (R-FL), in a Dec. 29th joint press release.

Earlier December, Senator Jesse Helms (R-NC), Reps Goss and Gilman, issued a joint press release strongly criticizing the Nov. 26th presidential election.

"Haitian President Rene Preval and his one-party electoral commission organized a sham election with the sole purpose of delivering absolute control over Haiti's government to Mr. Jean-Bertrand Aristide."

"The United States also must make it clear that Jean-Bertrand Aristide is not fit to joint the democratically elected leaders at the Summit of Americas in April 2001."

And, a Dec. 28th statement, issued by the White House Press Secretary, read as follows: "Last week, Special Envoy Tony Lake led a delegation to Port-au-Prince to meet with President Preval and President-elect Aristide and Haitian opposition leaders. During a series of meetings, President-elect Aristide committed to rectify the problems associated with the May 21st elections, create a credible electoral council, enhance counter-drug cooperation, professionalize the police force and judiciary, strengthen democratic institutions and protect human rights, install a broad-based government, initiate a new agreement for the repatriation of illegal migrants. He has written to the President confirming his commitment to these significant steps. Their implementation can mark a new beginning for Haiti's democratic future."

Yet a few things have changed since December, not least leftist Aristide's plan to assassinate opposition political leaders, journalists, officials of the Catholic Church and others, as the death threats made in a January 9th press conference suggest.

Paul Raymond, a leftist Aristide's hit-man, promised to burn alive more than 100 Haitians. And, Aristide has yet to speak out against the death threats made by Raymond, as the affected parties asked him to do four days after they were made.

This, however, was not supposed to happen. Leftist Aristide often prides himself on being a leftist totalitarian dictator worthy of Fidel Castro.

Under increasing pressure from the international community and the Haitian opposition, which will install a government on February 7th, the very exact same day that the dictator says he will proclaim himself "Monarch," he sent a May 12th letter to the opposition, asking it for a dialogue.

But four days later, if there were one thing calculated to help leftist Aristide understand, at least, the concept democracy, it was the opposition's January17th reply to his January 12th missive, which seemed was written by a fifth grade student rather.

"In your January 12th letter to us asking for a dialogue, you first wished us a happy new year. Sure do we want to return the same to you."

"Your supporters continue to terrorize opponents, burn opponents alive and destroy anything that happens to be in their way. Still, you remain silent, even after they all claim to be members of your Lavalas Family Party."

"We will only meet with you as head of your Lavalas Family Party, but not as President-elect, as you claimed to be in your January 12th letter."

"Such meeting, which you have asked for in your January 12th letter, can only be held at a neutral place, suggesting that we do not meet at your private residence, nor our party headquarters."

On a very one last note, the opposition said in its January 17th letter to leftist Aristide: "Since your record indicates that you are not capable of making good on your promises we will only meet with you in the presence of the international community and members of the Haitian civil society."

Politically, leftist Aristide is a petty tyrant who cannot work with others. He thinks Haiti is the personal estate of no one but himself. He is the obstacle to any progress in Haiti.

Despite leftist Aristide's continual use of Haiti's kangaroo court to silence critics, as the order to appear in that court Tuesday, which opposition leader, Sauveur Pierre Etienne, confirmed having received Wednesday, and his mysterious bombs, including four Friday, Haitians now increasingly have a vision of the opposition's potential to put an end to Lavalas decade-long of extreme poverty, Lavalas decade-long of politically motivated assassinations.

From a hypothetical perspective, there are now more than just encouraging signs in Haiti, as well as in Haitian diasporas, (i.e. growing fatigue with leftist Aristide's legacy of gross incompetence and pillage of the public treasury while absolute poverty remains the norm) that vision will further inspire confidence, even among leftist Aristide's supposed close associates, too, when the Haitian political opposition officially forms on January 27th a government, and later install it on February 7th, to replace leftist Aristide's political godson, the inebriated Rene Preval.

The effects of leftist Aristide and Preval's dictatorship of the proletariat are hardest on the extremely poor Haitians (meaning that they live on less than $1 per day). I'm not usually in the business of making value judgments. But a thorough a analysis of the provisional government's program suggests that readers of this article should expect new politics and economics in Haiti. The overall result will not be disappointing at all for a nation like Haiti, plagued with famine, poverty, disease, and state-sponsored thuggery.

Yves A. Isidor teaches economics at the University of Massachusetts-Dartmouth and is spokesperson for We Haitians United We Stand For Democracy, a Cambridge, MA-based non partisan political pressure group.

Wehaitians.com, the scholarly journal of democracy and human rights